This weekend would be another distant autocross but unlike the soggy trip to Salem this one would be full of sun and sweat over the two day event.
The trip began at 6:30am at the Sheetz in Staunton where Justin and I met up with Bruce Crow, his friend and Vlad Dulgarov. Bruce could only make Saturday's event but Vlad was with us for the long haul of the weekend which turned into a guy's weekend out for him, Justin and I. With the top down and Van Halen blasting on the radio the two hour drive melted away.
Saturday
At the event site, after several wrong turns by my faulty sense of direction we set up our EZ ups with Steffen Clark and Ryan Hansbarger as usual. While setting up camp we heard a few folks laughingly say that there was a Prius there and that they'd at least be able to beat that car….oh if they only knew. I'll get to the Prius in due time!
First up in the results and event coverage is the FM or Solo Vee of Glen Thompson. Glen was again kind enough to partner up with Bruce for some friendly competition in his car for Saturday's event. Having been beaten in his own car last time Glen pulled out all the stops and beat Bruce by just 1.3 seconds. Both drivers however were  limited to second gear around the course as the shifter proved to be a pain in the rear once again. At one point Bruce had the car in third gear but upon trying to downshift back to second things got jammed up and the car almost came to a stop. The inability to grab gears really seems to be a buzz kill in this car and is definitely holding it back. The final straightaway of the course…although intended to have wiggles had my Miata solidly in third gear at close to 70mph so with the Vee's short gearing I can't imagine only having second gear to go to. Either way both drivers made the most of the Vee in the tight spots and had a good battle between each other.
The Virginia Tech FSAE car and FSAE trailer all in one shot!
The other choice for open wheel racing Saturday was Virginia Tech's Formula SAE team with four Virginia Tech Engineering students battling it out. Scott Freeman and Will Vatis had an absolute knock down and drag out for first place with Freeman taking it by a mere 0.079 margin with his 48.738 to Vatis' 48.817. In third was Michael Woodworth with a 47.795 putting him only a second off the leaders. Brian Oeters looked fast out on track but kept missing the same corner of one of the wide turns and ended up off course every run.
ASP was missing Martin Kriz and David Wampler but did feature some dueling STI's as well as a Porsche 911 to keep things lively. On this day the older STI would prevail but only by half a second with Matthew Ehrlich taking the win in his '06 STI with a 48.374 over John Kuykendall's '99 911 Carrera with his 48.953. Vincent Sorrento came in third with his 2010 STI with a 50.325. Fourth was taken by the '08 WRX of Andy Warden with a 51.769 and finishing fifth was Angelo Sorrento with a 52.936.
CSP featured the appearance of a nationally competitive CSP '99 Miata driven by a nationally competitive driver in Bryan Hertweck who churned out a fast 46.558! Scott Miller drove the old blue bullet now owned by David Miller to second place with a 50.428 while David Miller took third with a 51.374. Joe Hemphill closed out the class in fourth with an impressive 52.925 on older used tires in his '95 Miata.
In DSP BMW fans will despair to find that Steffen Clark's Colt beat Keith Ryker's '97 328is with a 49.884 to Keith's 55.929. But it is worth noting that Steffen's an autocross regular and the Colt is highly worked over with R-comp tires. It's also worth noting that Steffen finally overcame his slump of being beaten by my STS Miata that weekend as he beat my 50.134!
The two FSP cars…or rather car and truck almost changed the name of the class to DNF but finished one run each to lock in times for the day. Ryan Hansbarger took the win in his '92 S10 with a 55.735 while nearly losing his brakes across the finish line as one of the hard lines over the rear axle simply burst under pressure in the 70mph-0 braking zone. Lucky doesn't begin to describe how Ryan (and my brother riding along in the passenger seat) was. Like any good driver though Ryan kept cool and had his route planned out if/when the brakes failed. Always a good idea to think about what you would do in similar circumstances as you just never know…Carl Cress in his '95 Honda Civic suffered similar bad luck getting a flat tire during his run and finishing with a 62.887. While both drivers were done in FSP for the weekend they were quickly greeted with keys to various other cars from friends. Carl ended up in Glen Thompson's Formula Vee and Ryan in Justin Lingenfelter's STS Miata on Sunday.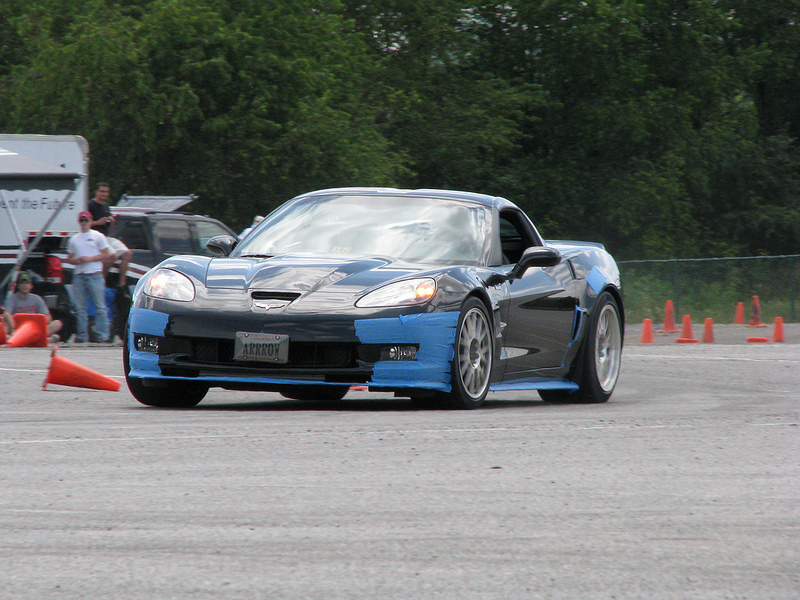 Courtney Cormier, last year's national ASP champion took FTD and FTP in Roger Garett's new ZR1.
SSP quickly became FTD and FTP Saturday as National Champion Courtney Cormier took the wheel of Roger Garret's new black ZR1 Corvette on Hoosiers and posted a 44.838 lifting at the finish due to the insane speed that the ZR1 was getting on that uphill straight. Roger, most likely also lifting at the finish took second in class with a 50.707.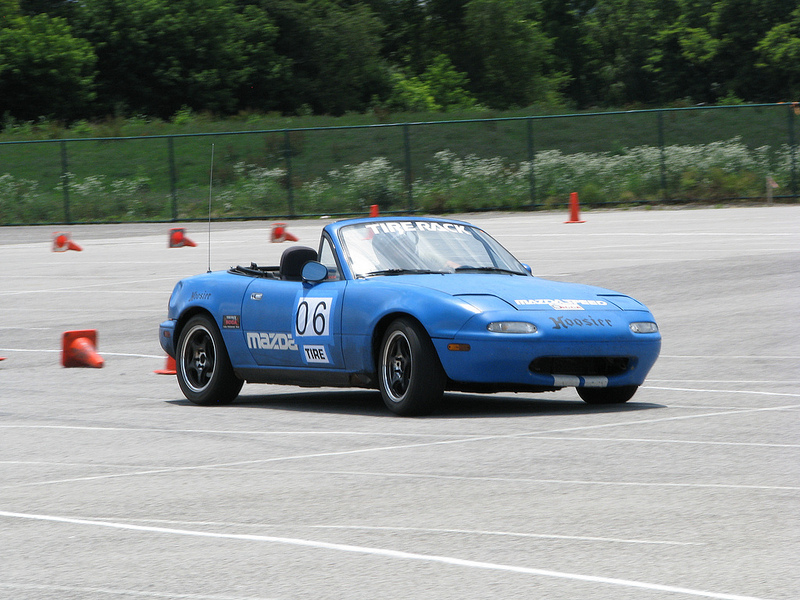 Pete Johnson and Justin Rest slapped some Dunlop Star Specs on Pete's CSP Miata and with it's newer 2001 motor the car cranked out an impressive 47.891 for Justin and 48.737 for Pete. While they took first and second respectively in the TIRE Class they would have taken second and third place in CSP with Justin only a second behind Bryan Hertweck's huge Hoosier shod CSP car. These guys can drive!
In AS the automotive boxing match between Henry Lehmann's '00 Corvette and Jim Michael's '06 Cayman was both close and epic. After the veritable knife fight they had last time in Verona Jim decided to bring a gun in the form of Toyo R888's, a race compound tire over his old Bridgestone Potenza RE-11 street tires. Henry kept up the fight on his just broken in Nitto NT05's! In the end Jim took the win with his 51.114 to Henry's 51.259 a difference of only one tenth of a second… Bill Hume wasn't too far behind those two in third place with his 52.168 in his '08 Boxter S.
In CS Cliff Palmer's Hankook RS3 street tire shod RX8 edged out Wendy Bergstein's R-comp equipped '99 Miata with his 51.232 to her 51.520. Although both are Mazda's the cars couldn't be more different and both drivers' match the cars very well. Wendy is fast smooth and controlled behind the wheel of the Miata while Cliff tends to fling the RX8 around keeping the rear wheels spinning and the RPM's up in rotaryland. (FYI: rotoryland is a subdivision in Heaven since Mazda has discontinued the rotary this year…le sigh)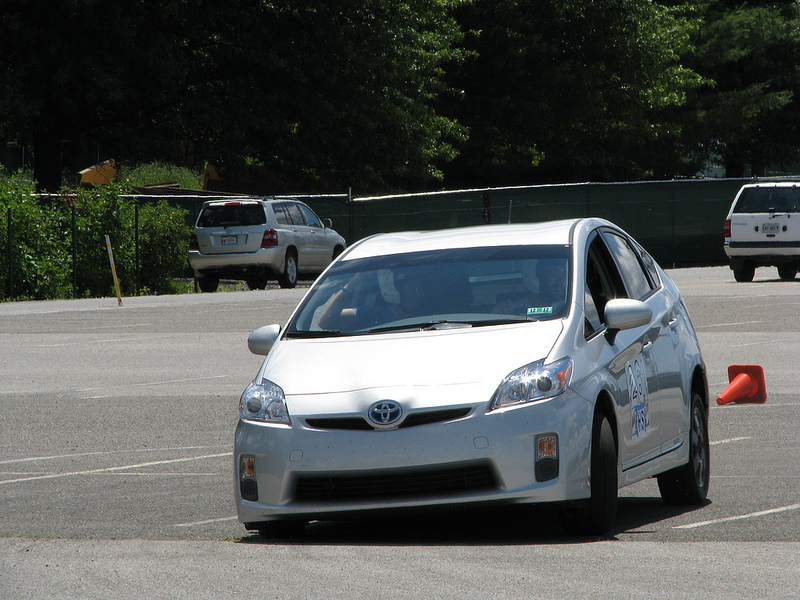 Paul Sexton's Prius was quick…but so quiet all you could hear was the gravel sticking to and popping off the Hankook R-comps.
As mentioned in the beginning HS found a new competitor to represent the everyday car. Actually that should be the surename for HS ie: the daily driver class. But while Jason Lineberg's Carolla was missing from this event Paul Sexton's Prius cut through the field like a warm knife through some hybrid version of butter…margarine or something heck if I know! All I do know is that Paul was fast. His '11 Prius armed with only a fresh set of Hankook R-comp slicks threw down a 51.252. To put that in perspective the car finished first in class of course and 23rd of 71 by raw time and for Paul's driving heroic's he was rewarded a personal best of 3rd overall Pax! I say again…IN A PRIUS. Haters can hate…but can they beat Paul's Prius? Remember 47 people didn't.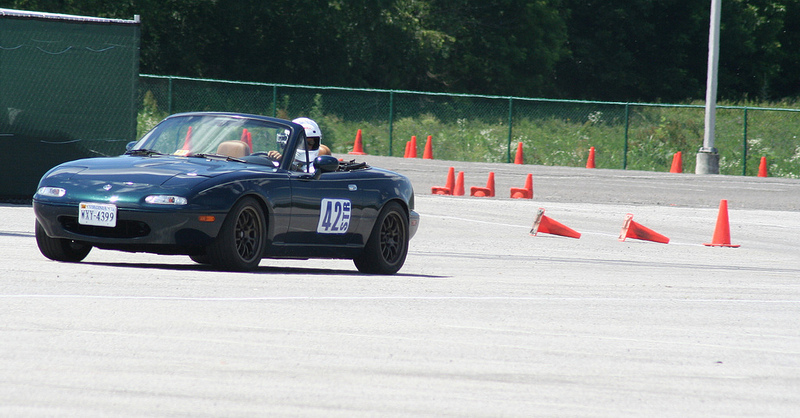 BRR Rookie School Professor and Registrar Ray Schumin is demonstrating the proper technique of looking ahead in the next sequence of pictures. Note the position of his helmet in each pic.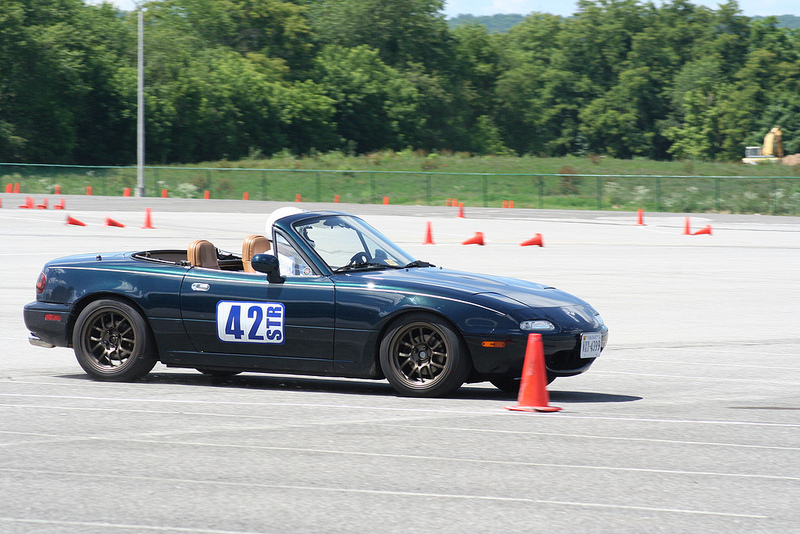 This is where the most dollars should be spent for an autocrosser. Experiance! With experiance you'll master looking ahead and with that you'll drop more time than fancy tires or turbochargers. In STR Ray Schumin took the win in his extremely tasteful '97 Miata with a 51.882. Vlad Dulgarov came much closer to first place though this time with a 53.872 putting him only 1.99 seconds away. After the race weekend we checked the date on his front tires which were 200 tread wear Bridgestone's and we're pretty sure they said '02…weird and mildly alarming. With better tires it's hard to tell how much quicker Vlad would be. Vlad Dulgarov finally got a chance to use his S2000's powerband on this course.
While comparing Vlad to a driver like Ray is a bit tough as Ray is just that quick I'll just drag the "White S2000 Club" into the mix here and compare Vlad, Rob Leslie and Erik Strock's times. With eerily similar looking AP1 S2000's these guys have become friends and share setup ideas and tips back and forth. Rob Leslie was the quickest of the White S2000's in his BS car armed with experience and R-compound tires laying down a 52.249. Vlad came in next with the aforementioned 53.872. Erik Strock's screaming BSP (due to chassis brace) S2000 came in behind Vlad with a 54.580. All three drivers had a great time with the course and Rob even had a Formula D moment with the car sideways and tire smoke churning out the back.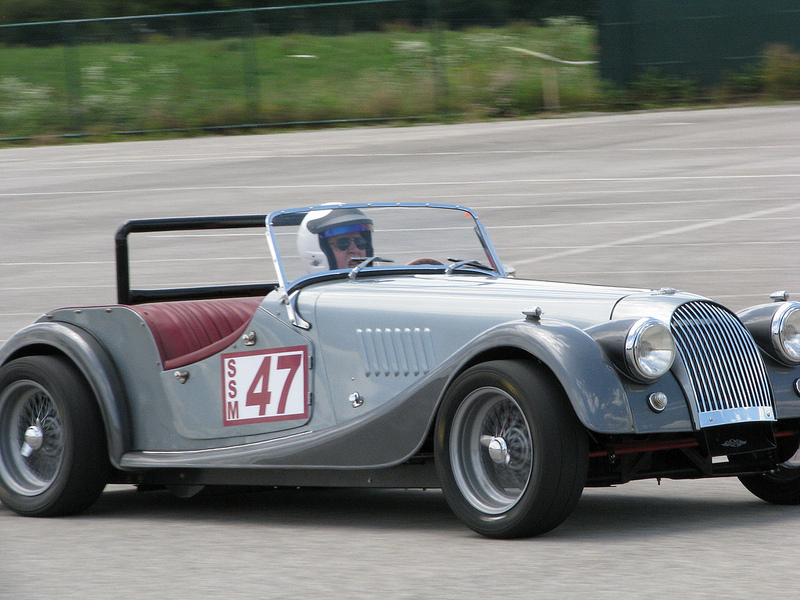 Tom Warden's Morgan is the epitome of the simple sports car. Lightweight, fast and equiped with tons of grip the car was hard to beat.  Kenric Meyer's 85 Trans Am sounded as muscular as it looked and burned tons of rear tire rubber out on course.
SSM featured three different approaches to the class. There was the light car with some horsepower and lots of grip with Hankook R-compound tires in Tom Warden's '65 Morgan 4/4. James Hogan took a mid-level approach with a '00 BMW M Coupe with more power, a little heavier and with almost as much grip in his Michelin Pilot Sport Cup tires. Kenric Meyer went with lots of power, more weight and less grip in his '85 Trans Am. The results reflected what really matters in autocross…GRIP! Tom took the class win with a 50.129 and James took second with a 51.279. Kenric's tire smoking Trans Am that spent almost as much time sideways as it did going straight still pulled a 53.414.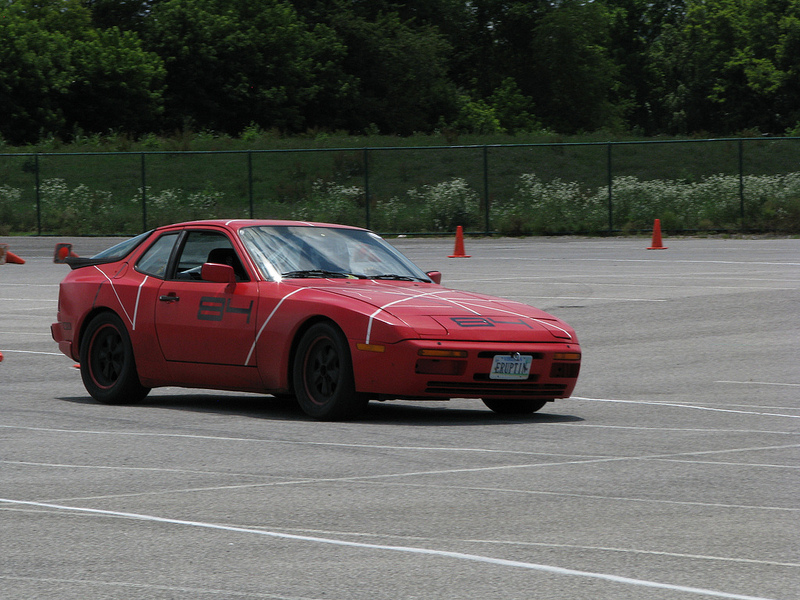 Will King…errr Vee Halen's 944 Turbo was simply 80's badassery at speed. Not only is this car fast but it's also for sale! $11,900 will get you a caged and safety equipment complete 944 HPDE or road race car. The car turns 2min 15second laps at VIR.Stephen Holzer drove this beautiful new 2013 5.0 to a 51.858!Matt Wilkinson took the win in STF with a 55.113Jeff Marian took the win in STC in his 2.5RS with a 52.495.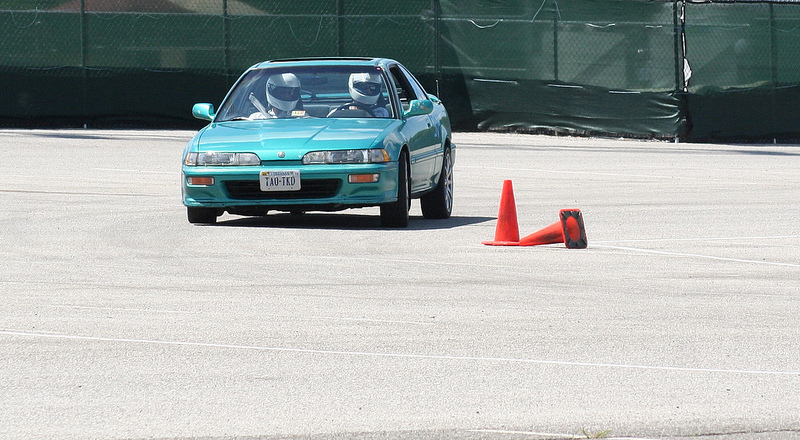 [/caption]
Matt Melling drove drove his 92 Integra GSR to a third place finish in STC with a 55.093.Alex Jones tore up the course on his cheap secondhand Falken RT615's! Even with that grip he said that the boost still created tons of wheelspin up the hill.James Koiner rocked the classic BRE 510 paint scheme in his Sentra SER placing third in the TIRE class.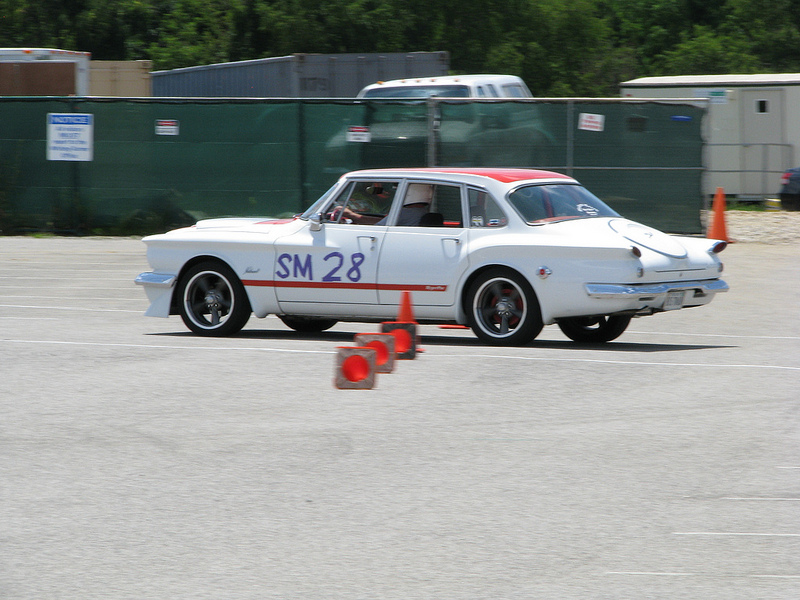 Have you ever seen a more beautiful car at an autocross? Mark Charmadich's '60 Plymouth Valiant looked amazing out on course.
The Course from My Point of View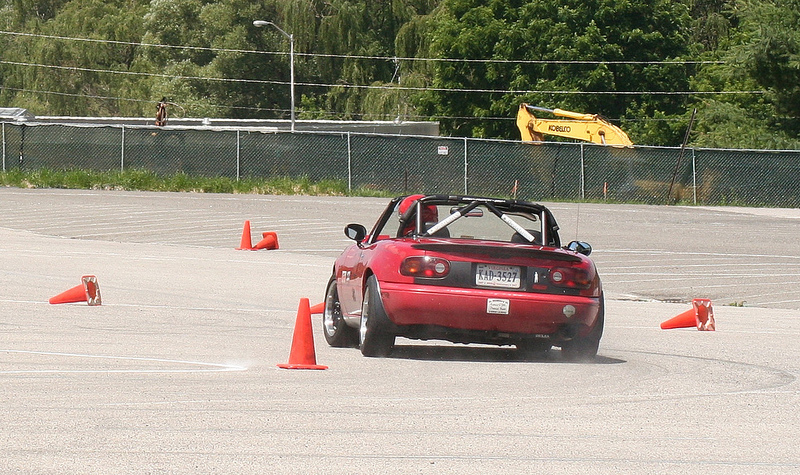 I had a lot of fun out on this fast course. What you see here is the beginning of the huge uphill adrenaline rush to the finish.
On my first run I took my friend Bruce's very nice and very car knowledgeable lady friend Kailee for a ride along. It's hard really for me to describe how fast the course was…but I have to in order to do it justice. After a tight right-left-right start we shot off into a short straight where I was finally able to bang second gear after almost riding the limiter in first through the tight stuff and after that it was all about drawing the wide line to keep up the mph throughout the course. There were loose sections like at the end of the uphill slalom where a sharp right-hander sent you back downhill where a little oversteer helped point the car in the right direction. This section is probably where Brock would beat me the most as he was nearly rolling smoke from Joe's Miata around that corner every time. One corner towards the bottom of the hill where you almost reached the top of second gear had a braking zone full of skid marks from the fast drivers as we all seemed to threshold brake at the same point (I added a few streaks myself). The uphill section to the finish though was the most insane. While I had joked that one could take the uphill section flat out I thought maybe I was being a little optimistic about grip and the severity of the few kinks in the track up the hill. However if you went out a little and late apexed that last sweeper just right it was a hell of a drag race up that hill with a little bit of manageable oversteer and a long stretch of telling yourself not to be a wuss and keep it floored. When I finally went to third instead of riding the limiter for a few seconds in second gear across the finish I crossed at a little over 70mph and had just enough room to safely stop the car and turn it around to grid at the finish. My hands hadn't shook like that after a run in…ok a month but still it was a hell of a rush.
Now for some actual coverage of STS. Brock Clayton having apparently worn down his Kumho XS's to the cords on a road trip with his 5* of negative camber Brock got a co-drive in Joe Banks' '90 Miata that he had won with back in March. With that familiar car Brock pulled off an impressive win posting a blazing fast 49.914 while all I could get was a 50.134. Less than a second behind Brock was Tim Russell in his MR2 in third place with a 50.825. Joe Banks came in fourth with a 51.641 and Justin Lingenfelter closed out the STS field in fifth with a 52.136 taking on riders on many of his runs.

Brock Clayton put Joe Banks' car and old Dunlop Star Specs to work taking the win in STS.Tim Russel used all of that Toyota Torque to get his MR2 up the hill and finished third in STS.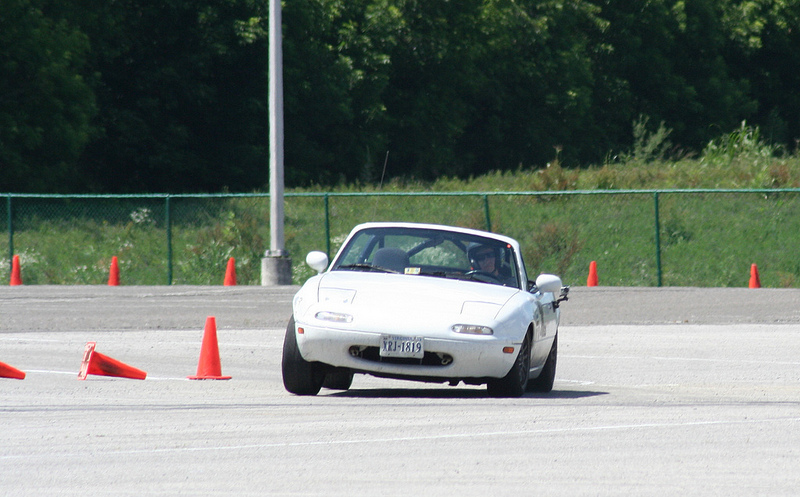 The Banks Miata got a workout that weekend with Brock taking first place and Joe taking 4th.Justin Lingenfelter provided many rides during his runs and drove to fifth place in STS. The year and a half old Toyo's have lost most if not all of their turn in this year and took a much wider racing line to work in. Since they're going to be illegal in STS next year we might as well tear them down to the cords!
At the end of the long hot and sweaty day everyone had fun and even took a few fun runs testing out each other's cars. I know I had a few scary moments watching my brother drive my car on course sliding it everywhere. He had so much more fun in my car that I decided to let him run mine the next day. This ended up working out well as Justin threw the keys to his Miata to Ryan Hansbarger who's S10 had called it a weekend with that ruptured brake line.
However…later that evening after all of the competitors had left some "frat bro's" or other locals in a BMW took it upon themselves to go into the lot and play around on what was to be Sunday's course. Luckilly local law enforcement stopped them but if there's one thing we don't want to do as a club it's attract negative publicity thus losing lots. So, if you overhear somebody saying they're going to go "test out the track" or do donuts in the lot when everybody leaves…kick them in the balls so hard that they cry. You'll have the thanks of autocrossers everywhere.
As is getting usual with my busy autocross days I was unable to snap many pics of cars so many thanks to the photographers of the Blue Ridge Region SCCA. Also results can be found at www.brr-scca.org as there's almost no way for me to talk about every class without writing a book for each autocross.