Virginia Tech's Formula SAE car kicks up some rooster tails in the rain during the second BRR-SCCA event in Salem, Va.        
            I've been autocrossing fairly steadily since 2006 when I bought the Miata and brought it with week old temporary tags to its first event. Over the years I've had two significant autocross demons develop. The first and most major was that of the Salem lot at the Salem Civic Center. If you know me then you've heard me make comparisons to Pet Cemetery or the housing development from Poltergeist. I've just never really had great luck with that lot. It presents a challenge in that the lot is actually on a hill with the crest of the hill nearly in the center of the parking lot. This means you can only really see ¼ of the parkinglot at a time from behind the wheel. You have to have a good memory as you crest that hill in the car and know where the course goes afterwards or you'll end up off course and lost. Heck I can barely remember where I put my keys most of the time! The first time I went there it was probably all of 30 degrees (the tires had frost on them when I left Verona) and although I stayed on course every run I was still so confused that I kept questioning the person at the time slip printer if I was on course or not. The second time I went it was worse and I caused two red flags and nearly had an accident on course. I almost quit autocrossing altogether that day. The third time I went it rained I had a better time but still lost. The fourth time the curse that missed me on trip 3 returned and a car that wasn't even part of our event slammed into a ticket booth for the baseball stadium nearby and hours later my brother's radiator started to leak. There was nothing wrong with the lot itself really, just our luck. The lot does push your ability to remember and your discipline with the downhill portions where the car being off camber will handle differently. Any long distance haul will also push the limits of a car that already has high mileage… like my brother's 250k mile Miata. The car and driver must be ready but at least this time the cars were ready.
                My second autocross demon was driving in the rain. Driving in the rain requires a smooth driver and for a long time that hasn't been me. I've also never had a tire before that didn't under steer horribly in the wet. Even the Dunlop Star Specs which I loved didn't have as much grip in the rain as I would have wanted. For me rain has meant wet clothes, wet shoes, freezing feet and that which I hate most of all in this world…under steer.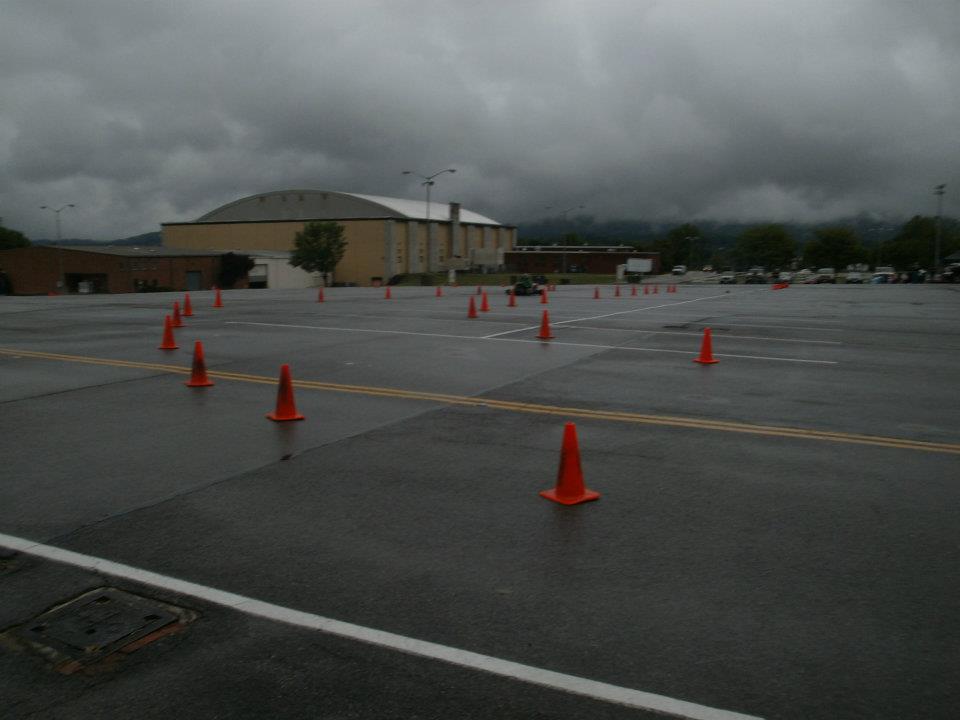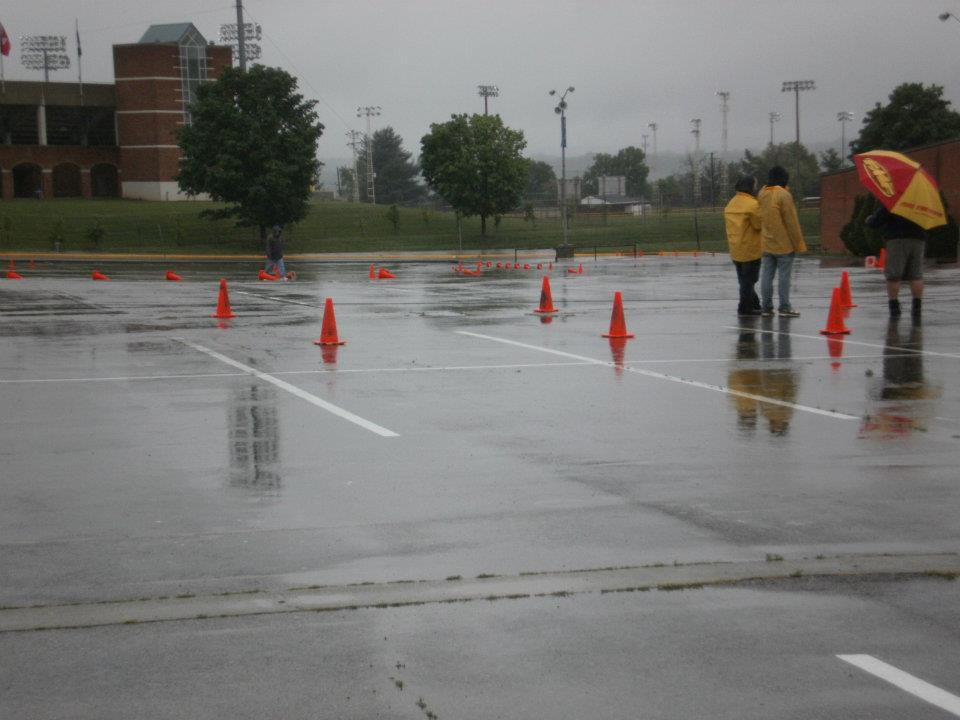 Beautiful day for a race right? Did I mention the parkinglot was recently re-sealed? OOOH YEAAAH Gripfest 2012!
                On April 22nd I would have to deal with both demons rain and Salem at the same time. The forecast called for temperatures in the mid 50's and rain all day. My brother Justin and I packed our stuff in the tire trailer and made what we thought was a journey of reckoning. He still had bad memories of coolant slowly steaming from his car and I had…well you read through that whole paragraph up there right? When we arrived we set up my ez-up beside Steffen Clark's and unpacked our things. While unpacking Steffen came up with the brilliant idea of picking up a grill at Wal-Mart and some burgers. So while Steffen and a few friends picked up our breakfast and lunch machine Ryan Hansbarger, Justin and I walked the course 5 times which was a good idea because the course was still being fine-tuned by the safety stewards. The fine tuning worked out great and the course looked smoother and faster each walk through with less jerky transitions. After the best autocross breakfast ever of hot dogs and hamburgers the drivers meeting was held and run groups decided. The first to hit the wet track with a steady slow rain coming down would be the Street Prepared classes, two drivers from the Virginia Tech Formula SAE Team and Juan Jaramillo in his shifter kart.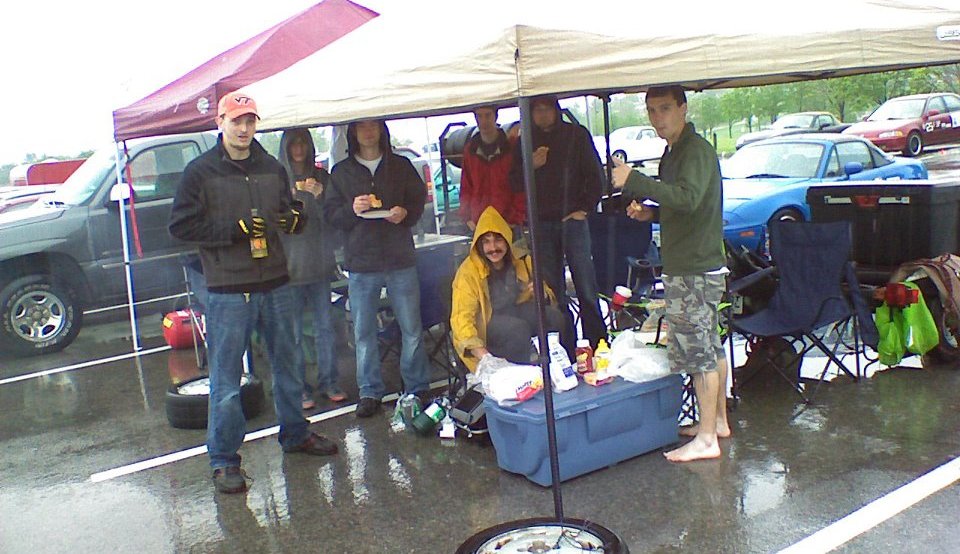 Camp Clark/Lingenfelter. We put our ez-ups and money together for a grill and tailgating setup that made a crappy rainy day burgertastic.

In the rain on slick Rcompound tires Steffen still managed to get the Colt on 3 wheels!
           Steffen Clark had no competition in DSP to worry about but was still intent on throwing down a fast time to stay ahead of "…those damn Lingenfelters." Stephen's tire setup was Hankook slicks on the front with Toyo RA1's on the rear…which were also slick at that point. With virtually no tread to speak of he still managed a 44.505 while lifting the rear inside wheel in the air on every sharp turn.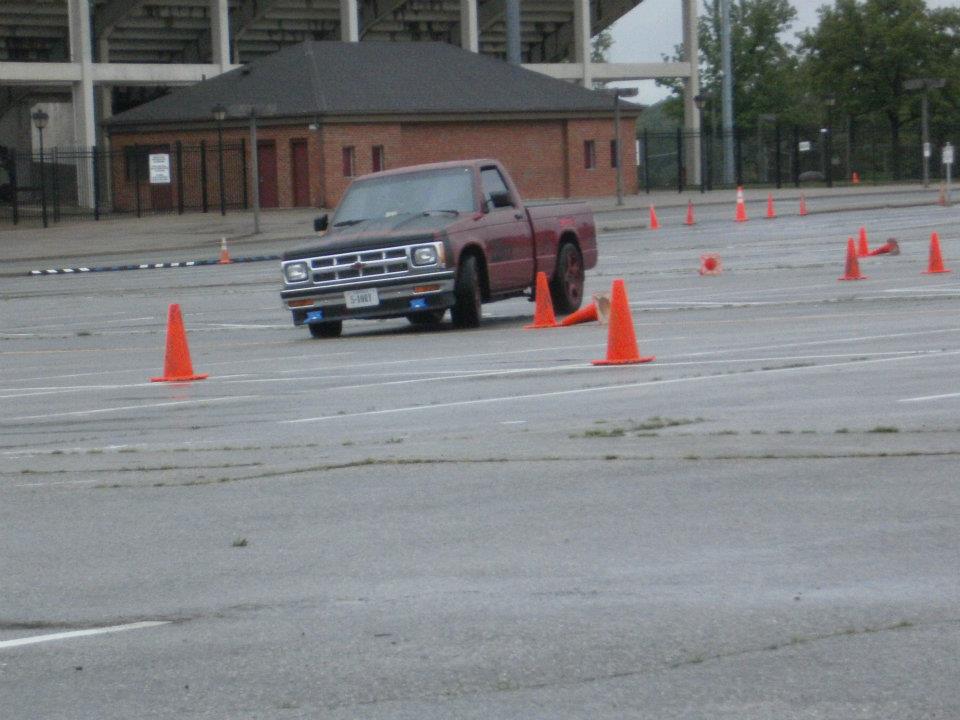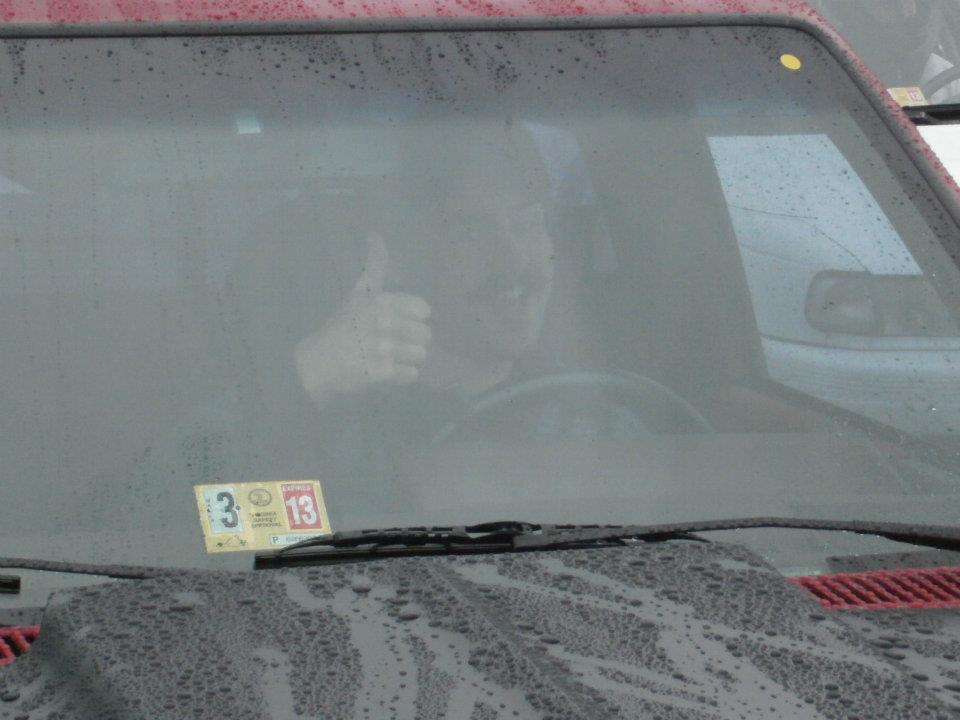 Ryan Hansbarger in his 92 S10 on the other hand had plenty of competition in FSP with Carl Cress's modified 95 Civic EX on Victoracer's. Carl Cress is one of those guys who shows up with some random cars and proceeds to kick ass with them. At one event he showed up with a 95 Chevy Caprice Estate Wagon with whitewall striped tires and wire wheel covers and decimated a third of the field. Today his weapon of choice actually looked somewhat prepared for the task with road race tires with a little tread and adjustable shocks. It was a close battle for sure but Ryan pulled ahead with a 46.065 over Carl's 47.984.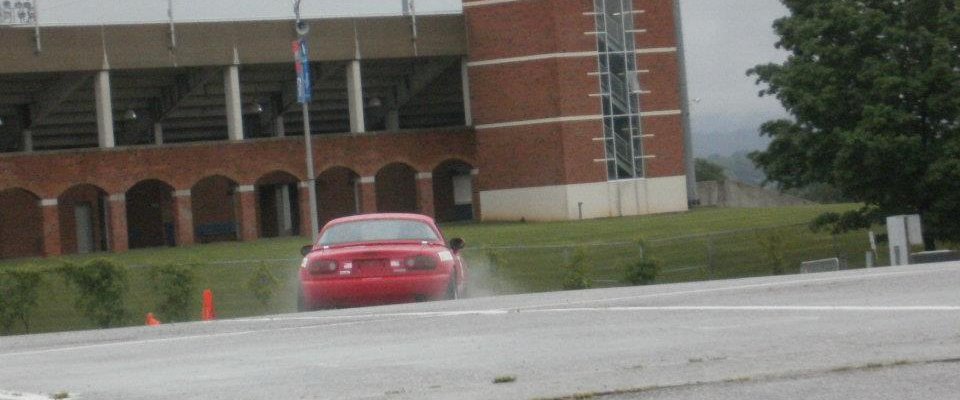 Mick Seal demonstrates the elevation change at Salem by driving down into the great beyond.The Yokohama's gripped better than many other R-comps that day and helped keep Tim Windle and Mick Seal on course.
                CSP was an even closer battle with Tim Windle and Mick Seal doing battle in Mick's '94 Red Bull Miata on a set of Yokohama Advan R-compound tires at half tread. Tim took the win by a narrow margin with a 45.102 to Mick's 45.709. In third was David Miller in his newly purchased Blue Bullet 99 Miata that he had just picked up from the Combs' family. The car ran great but with not much tread on the Nitto NT01s and even less seat time in a significantly modified NB Miata David laid down a 50.948.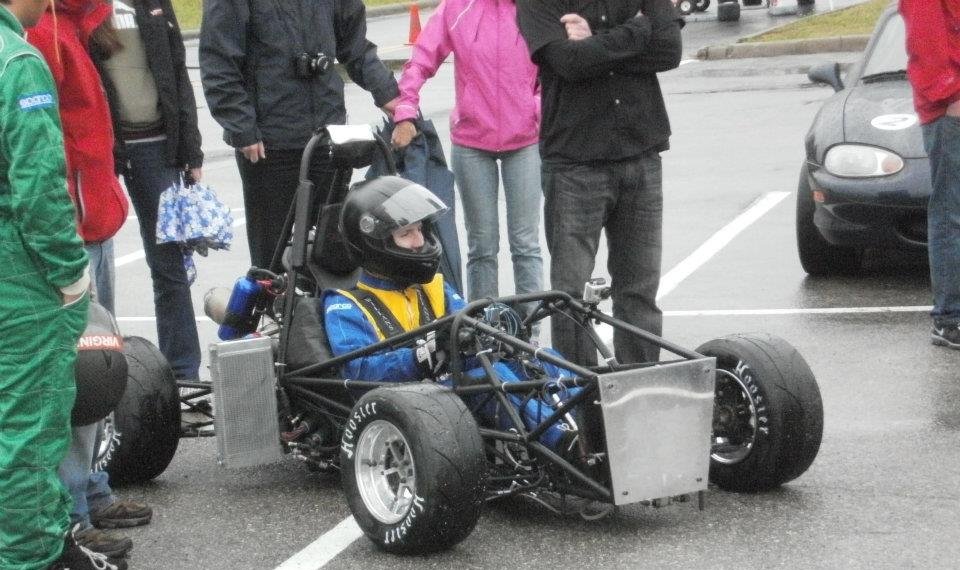 What's the best class you've taken in college? Did you build, crew for, or drive a racecar for said class? Juan took FTD trying to outrun not only Martin Kriz's STI but hypothermia as well. When asked about rain gear Juan replied "I rainexed my visor so I should be good." Badass indeed.
                In the open wheel racing world there were two approaches represented. The Virginia Tech Formula SAE team was there with a gaggle of student engineers, four drivers in full firesuits and rain tires. The other open wheel option was a KM CTS shifter kart of Juan Jaramillo in a hoodie/jeans and also on rain tires. All of the open wheel guys were thoroughly soaked at the end of the day but most importantly most of them were thoroughly fast! In Formula SAE Brian Oeters took the win with a 41.113, Stephen Young was second with a 41.592, Will Vatis was further back in third with a 47.064 and Ruxun Dong closed out the class with a 49.572. Juan took the race fuel burning kart one step further than…everyone laying down the Fastest Time of the Day 39.010. It wasn't easy either as he actually spun through the finish without spinning into the walls of cones on either the left or right and managed to keep his dramatic 180 in the center of the finish line.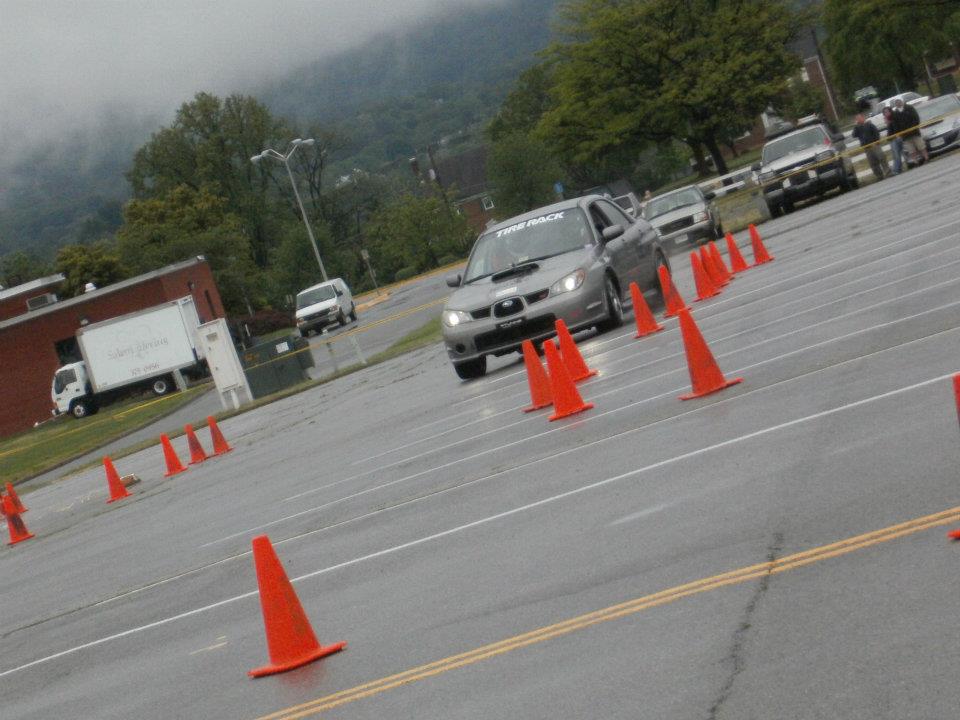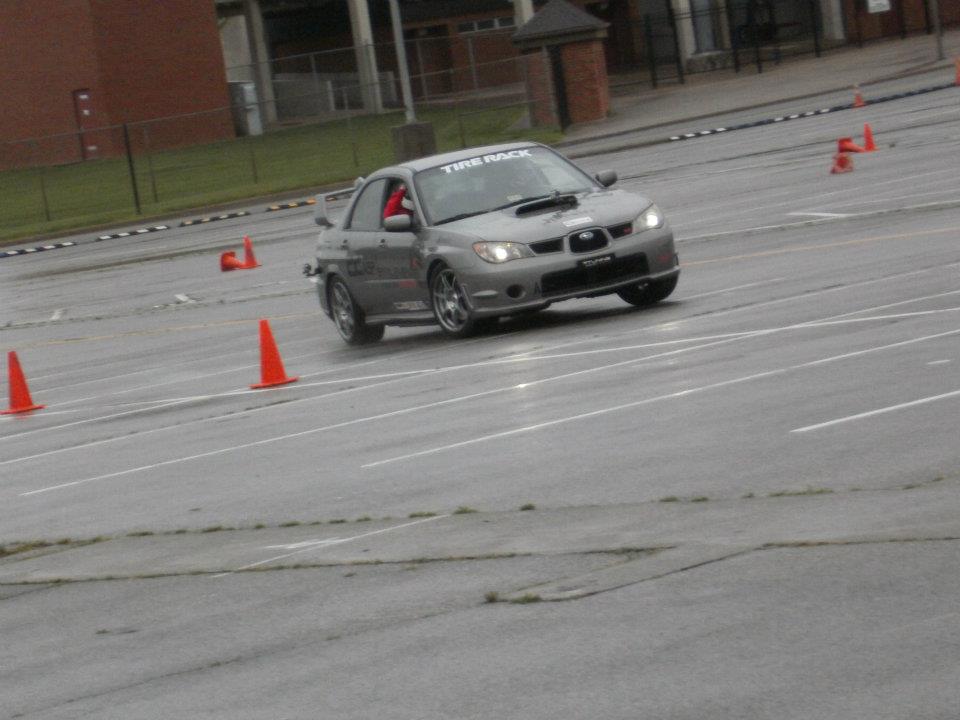 Tim Russell led early in his MR2 showing us all how it's done.Justin drove the 250k mile beast to a 2nd place in STS just 3 hundredths of a second behind me. Very impressive on old Toyos.
                Next up in the second run group was us STS folk. Our numbers were somewhat thinned with Scott Krzastek out with strep throat, Joe Banks out of town and many others missing. There was still a very formidable class battleground set with Tim Russell in his MR2, Brock with a newly purchased Miata (newly being the night before), my extremely fast brother Justin and some jackass in a red and black Miata (me). At first Justin and I elected to keep the tops on the cars as it was still sprinkling. For me it's a little weird driving with the roof on and my height doesn't help things making it so I have to scrunch down while driving up on the wheel. My worries of continuing my Salem curse were realized as I went off course on my first run. The good news was that I had an idea of where I was off and even had that moment of realization when I saw the gate (actually was 3 gates grouped together to form walls on either side) . While I was out wandering aimlessly on the track Tim and Brock were setting the bar in STS. Brock and Tim both racked up 46 second laps with brock coning away his on the first run and then they along with Justin dove into the 45's. Meanwhile I picked up a navigator in Ryan Hansbarger and confirmed where I went off course with a pokey 48 second lap….I had a lot of catching up to do. On the next run I eked a little closer to the pack's now 44 second 3rd runs with my 45.1  still holding back on many slick portions of the track unsure on how  far to commit. With the 4th run my brother Justin took the lead with a 44.373 and I coned away a perfectly good 44.5 second run. There was only one more run left and I was in last place. Justin and I couldn't take the constricted driving anymore and took the hardtops off, sprinkling rain be damned. I'm not usually a guy who's fast on his last run, let alone in the rain and at Salem. The thing that bothered me the most though was that the car was brilliant the whole time barely skidding and locking up and very controllable in the ill conditions. I was beginning to feel like I would be failing the car. I would also have failed my brother by finishing last as he was constantly checking in on me since he was gridded behind me. He was pretty much doing all the work in our brotherly race team getting to the podium on a car with older more worn R1R's so the least I could do on full tread new R1R's was to at least get close right? Damn skippy! On this run I gave it full throttle on the spooky downhill sections and extended my lines in the turns wider to compensate for any under steer. By using the simple adage of going slow in the slow sections and fast in the faster parts ala Randy Pobst the car and I nabbed a 44.197. The funny part though was that when I crossed the finish line and looked at the timer the previous driver's time flashed up on the scoreboard…a 48 second lap and I'm not very proud of the words that came out of my mouth but luckily my actual time finally flashed across the display and I let out a Homer Simpson "Whohoo!" It wasn't over though as Justin was behind me in line and therefore still out on track somewhere. I quickly pulled into grid to pick up my hardtop and then remembered he was behind me so I ran up to see the finish line. I could tell it was going to be fast and Justin didn't disappoint with a 44.227 a mere 3 hundredths behind me. Close behind Justin in 3rd was Tim Russell with a 44.313 and in 4th was Brock Clayton with a 44.874. The difference from 1st to last in STS was a mere 0.677 and the difference between 1st and 3rd was an even narrower 0.116 or a tenth of a second. It was my first win since March of 2011 and the second 1, 2 finish for my brother and I as he won back in October with me in 2nd.
                Another close battle was that in A-stock between Henry Lehmann and co-driver Ryan Clark. Ryan handles the Blue Ridge Region SCCA message board and finally had some time to attend an event but has long since sold his old Integra. Solo Chairman Henry Lehmann graciously volunteered his 2000 C5 Corvette and the two put on a lap by lap show. Ryan took a 3 second lead on the first run with a 46.515 but Henry fired right back on his second run with a 46.306 to Ryan's second run a 46.335. The third and fourth runs saw Ryan taking the lead with a 46.062. By the fifth run Henry got his time down to a 46.070 but Ryan took the win with a 45.933 a mere tenth ahead of Henry.
                Jeff Marian in his 2000 Subaru 2.5 RS had plenty of company in STC but he still ended up walking away with the win with a huge 3.77 second win over the next fastest car with his 45.394. That battle for 2nd was much closer with an unknown Subaru driver (must not have pre-registered) taking second with a 49.169 and Matt Melling in a '92 Integra GSR in third with a 49.313. Fourth place was held by Bryce White in a '97 Civic with a 50.725 and Will Wanless finished fifth with a 51.019. Alex Barr closed out the class in 6th with a 51.368 in a 2011 Subaru Outback.
                STX saw an unlikely winning car in Tom Steeves '91 BMW 535i (that's right I said 535i!) posting a 46.032. This time was so amazing for that car that the timing system decided to shut down on the next person in line and think about it. Thanks to the efforts of timing genius Glen Thompson and assistance from Henry Lehmann the show got back under way and Tom ended up winning the class on that run. Second place went to the 318is of Jesse Bayne with a 46.910 and third to the WRX of Mike Lukhard with a 48.638.
                So what did I learn from this autocross? Rain pants are definitely worth the $20 you pay for them if you intend on standing around in the rain all day. Next time in addition to bringing an extra pair of shoes I should bring an extra pair of socks. Driving in the rain isn't bad if you just remember to go slow in the slow parts and fast in the fast parts with smooth transitions in between. Most importantly though I learned that a positive attitude, friends plus some hamburgers can make crappy weather seem irrelevant.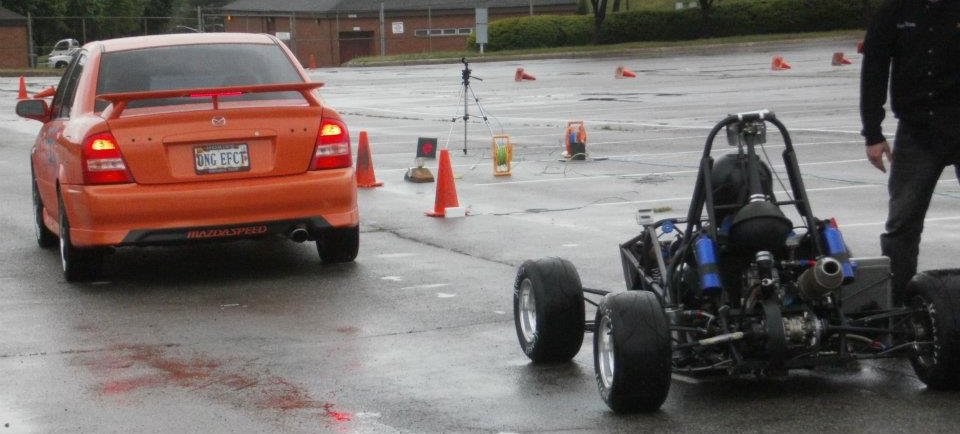 Traffic right?

Eric Stalcup exercises the beauty of AWD in his '11 STI.Madison Motorsports Adam Flint heading to the finishline in his STI winning SM!Finally some spring colors on a groggy rainy day, thanks Fiero! Heath and Timothy Maxey drove the car to 2nd and 3rd place respectively in ES.Jase Hendricks took his Fiat to 4th place in ES.Eric Strock's beautiful S2000. Like many convertible drives he opted to keep the top down in the gentle rain as a torn top from a hemet poking through it is more expensive than vacuming and shampooing the interior.