Coverage of the third Blue Ridge Region SCCA event held in Verona, VA.
                      Being that this was a Verona event I was able to sleep in yet be at the course early! I'm talking 7:15 am early. When I got there the usual suspects i.e.: the officers of the BRR-SCCA were there waiting on the equipment trailer. Bruce was unloading his Civic when I heard him bust out laughing as the front bumper was ripped off the car as it came off the trailer. This day would only get better as he would dislocate his thumb trying to widen the fenders on his friend Randy Thompson's CRX to use Bruce's wheels and tires on that car…only to have two tires sliced all the way around by the fender rub like ham at a deli. The day would end well though for Bruce as his plan C car would be the Solo Vee/Formula Vee of a very generous Glen Thompson.
                When the event finally got started everything turned into a blur. As usual I found myself working, helping folks with cars and shooting the breeze the entire day. Soo….as a result I'm going to have to use the results list to refresh my memory on all that happened and "borrow" the pictures taken by the BRR-SCCA photographers.
                I do however remember that the first group to take on the course was the stock class cars and some of the street prepared cars (SP).
                In GS Samuel Reiman found himself alone in the class again but posted an impressive 67.888 in his completely stock 97 Dodge Stratus giving him not only a first place in his class but 33rd of 69 in PAX and 46 of 69 by overall time. That car was absolutely screaming around the course!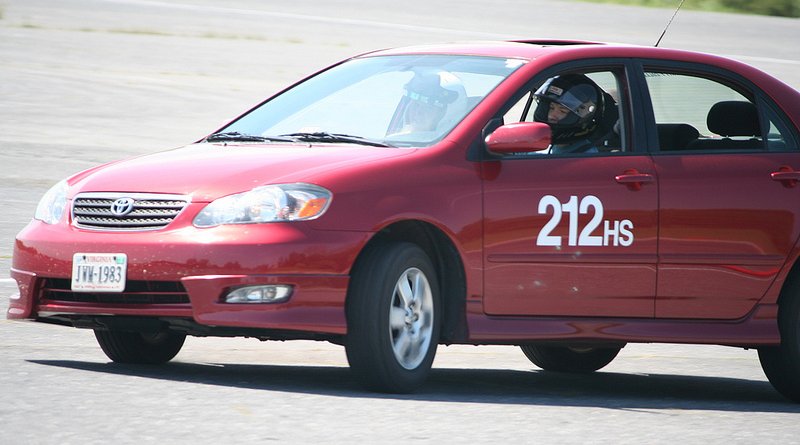 "Bro I dunno if my car's ready for autocross" That's cool, you should stay at home because Jason Lineberg is embarressing your poser car with his Carolla S anyways.
                HS saw a similar variety of cars that came right out of the grocery store parking lot proving that you don't need a high performance car on race rubber to have fun at autocross. Jason Lineberg took the win in his 2008 Toyota Carolla S with a 68.823. David Norder in his 92 Chrysler LeBaron at his first autocross took second with a 75.831. Mark Lotts who owns the most interesting collection of vintage late 70's and 80's VW's ever assembled brought out his '83 Quantum taking third with an 82.343.

Solo Chair Henry Lehmann was loving his new Nitto NT05's Sunday and had a great battle with Jim Michael's Cayman S on Bridgestones.
                The real story of run group one though was the back and forth battle between Henry Lehmann and Jim Michaels. After last month's close battle Henry bid the old tires on his 2000 Vette goodbye and picked up some new Nitto NT5's. With the increased grip he was able to catch up to and battle Jim's 2006 Cayman S on Bridgestone Re11's.  In the end Jim squeaked by ahead of Henry by a little over a tenth of a second with a 62.874 to Henry's 63.024. Kevin Crawford took third with his '01 Vette with a 68.086. Since this was just the break in round for Henry's tires I look forward to seeing even closer battles between he and Jim over the course of the year.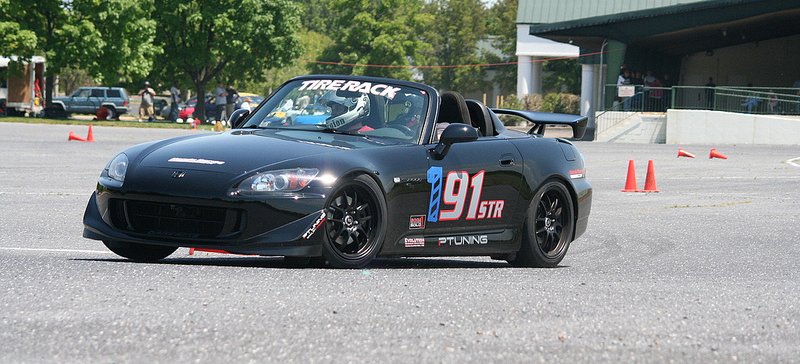 This is what a nationally competitive STR S2000 looks like. Noel Leslie didn't stop at an STR win but took FTD and FTP! Talked to him a bit and he said he got tired of his noncompetitive BMW Z car in STR and wanted something like his daily driver Miata M edition but with a little more power…the S2000 CR fit the bill perfectly.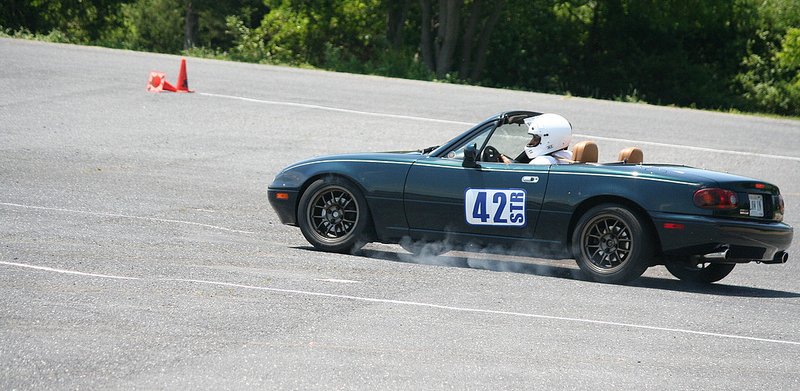 Ray Schumin getting aggressive on the brakes in his ST'R '97 Miata
                Next up was the ST tired group where STR saw a new face in Noel Leslie of Maryland. Noel usually competes in the DC region events where the cars are just plain faster and his PT Tuning S2000 CR represents what a nationally competitive STR car is. As such Noel set FTD and FTP with a blazing 59.138. Ray fought back the best he could but beating the guy who has FTD is a tough battle and finished second in class with a still impressive 62.375. That put Ray 6th by PAX overall and 9th by overall time. Vlad Dulgarov in his stock S2000 (except for an air intake and exhaust) came in third with a 66.863.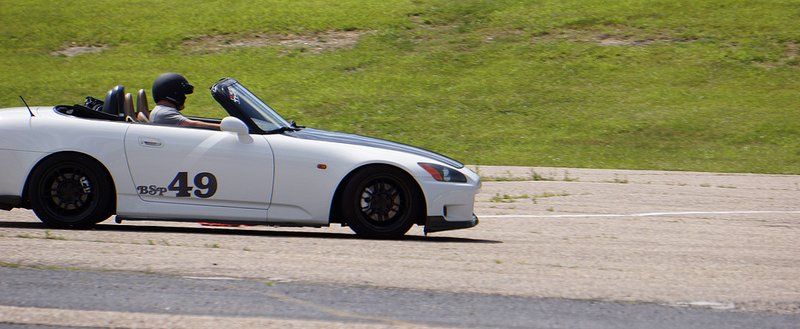 Strock's beautiful S2000 heads for the turn around.

Rob Leslie tests the grip and ride height of his BS S2000
Knowing a nationally prepared STR car was a bit hard to compare himself to, Vlad focused on the back and forth between his new friend and fellow S2000 driver Erik Strock in BSP (due to chassis bracing) who posted a 66.848. They finished only 2 hundredths of a second away from each other and back to back overall with Eric 42 and Vlad 43 overall. These two are doing great at their first year of autocross. The fourth S2000 driver, Rob Leslie in a white S2000 that looks almost identical to Erik's minus having R-compound tires took BS by storm with a 64.187 with Paul Sponseller's Cayman S in second with a 66.565 , Earnest Whetely and John Loth took third and fourth with the same '84 Vette.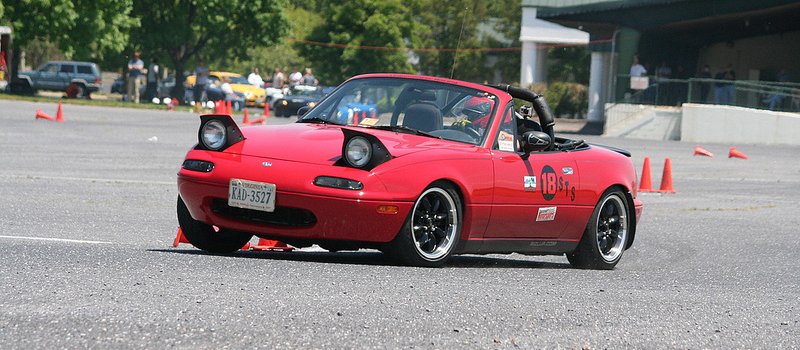 While the car is fast in bad weather it's also faster in good weather as well as much better looking. Love the sunlight and those gleaming Rota RB's.Brock Clayton: "It's got -4* of Camber so it gets a little loose." I'd say so.
STS was…well a gunfight as usual. Coming off a win at Salem and FTD at the Porsche Club autocross at Verona a week after Salem the expectations were pretty high for me. Co-driver Gary Krichbaum with multiple years of road racing and autocross at higher levels was there to help me with spraying the tires and join in on a competitive class. After a coin toss it was decided that I would run the car in that run group and Gary would take the car in the next group. The track was insane fun with tons of sliding into place. The car was so predictable that I was able to get my braking done early and throttle into the turn and be almost at full throttle on exit. With my higher suspension height the high speed transition in the track's "kink" made the car extra light but with some slight lifting of the throttle and immediate reapplication of power the sliding was minimized. The best way to describe my new driving style is controlled chaos…which applies to almost every other STS driver as well. While I maintained the lead and win through the run group with my peers Gary would take the car to the next level in the third run group taking the final win with a 62.120 to my 62.855. In third was Brock Clayton with a 63.175 with Tim Russell close behind in his MR2 with a 63.297. In fifth place was Scott Krzastek with a 64.049, Justin Lingenfelter sixth with a 64.053 and Ryan Krzastek seventh with a 64.069. Fifth to seventh was an insanely close battle. Bringing up the rear of STS was Andrew Jones in eighth with a 68.567 on a set of Dunlop Direzza non-Star Spec tires. I'm pretty happy though with second place as Gary is one of the toughest drivers to beat out there so it still makes a good streak of 3 events. Considering though that I did manage to beat him in my car for that previous Porsche Club Autocross for FTD…I think finishing second in class on the 20th was a tradeoff I can live with.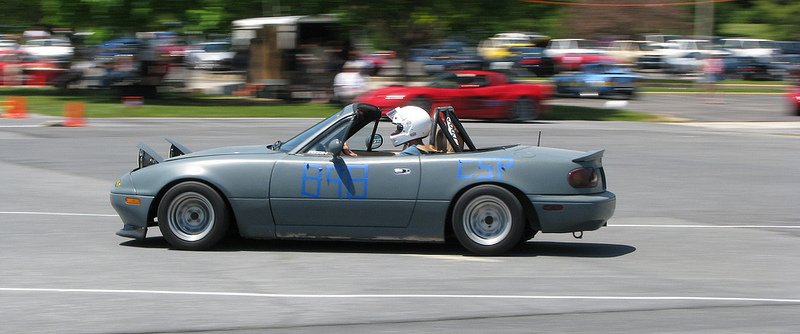 While it wont win any car shows Dylan Fitzgerald's CSP Miata did win CSP in Dylan's first win ever!
In the next run group CSP proved to be another closely competitive class. In his first autocross class win ever Dylan Fitzgerald took his 1.6 liter 93 Miata with the $50 13" old R-comps that Mick Seal sold him at the first event to glory. The primered out car that showed up that morning with 4 tires tied to the roll bar was in great form with Dylan narrowly beating Tim Windle with his 64.313 to Tim's 64.443. In third place was David Miller with a 64.777. Joe Hemphill took 4th in his '93 Miata with a quick 65.867. Joe also had an awesome tire towing setup with a large chrome luggage rack on the trunk lid of the Miata that one normally sees with wicker baskets on Miata's owned by older folks but featured 3 13" race tires on Joe's car. The fourth tire must have been in the trunk or riding shotgun.  Mick Seal was feeling rough during the event but managed a 66.680 to close out fifth before taking a break. The difference between first and third in CSP was less than half a second!

Daniel Wendel was the only one close to Noel Leslie's FTD and FTP and finished second overall in both PAX and time.

Lider's clean Civic looked great out on course. An additional thank you goes out to him for also offering Bruce a co-drive.
                I warned you all about how fast Daniel Wendell and his '86 CRX would be if he got some clean runs in and he didn't disappoint. Daniel scored first in SMF and 2nd overall in PAX and time with a 59.911. He actually dipped into the 58's but got a cone in the process killing that run. So Honda took a one-two finish at Sunday's autocross. SMF was pretty stacked with several swapped/boosted Honda's and a Mazda MX6. Second place in SMF was deservedly taken by David Boswell in his turbocharged 93 Civic hatch with a fast 62.904. Michael Hastings took third in his truck motor swapped 90 Mazda MX6 with a 64.500 and Amrit Lidder took third in his swapped '95 Civic coupe with a 65.745. Amrit was extremely kind in offering a co-drive to Bruce Crow when Crow's front bumper, tires and thumb were destroyed so that he could still compete in SMF. That's the kind of camaraderie you'll find among competitors at our autocrosses.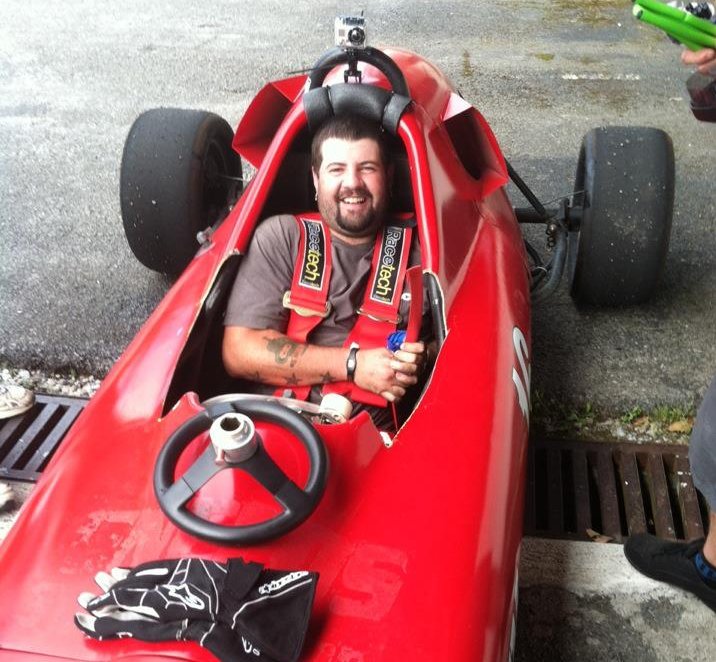 After all the crap that happened Bruce get's a reward for the day…to live out his F1 dreams in the Fmod car. Thanks Glen Thompson for radically changing Bruce's day! Bruce went on to accept Glen Thompson's offer and try out the Formula Mod Formula Vee. When Glen ran the car he had trouble with the shifter and could only summon a 68.012. Bruce fared better in the last run group and smoothly drove the car to a 65.298 taking the win in FM.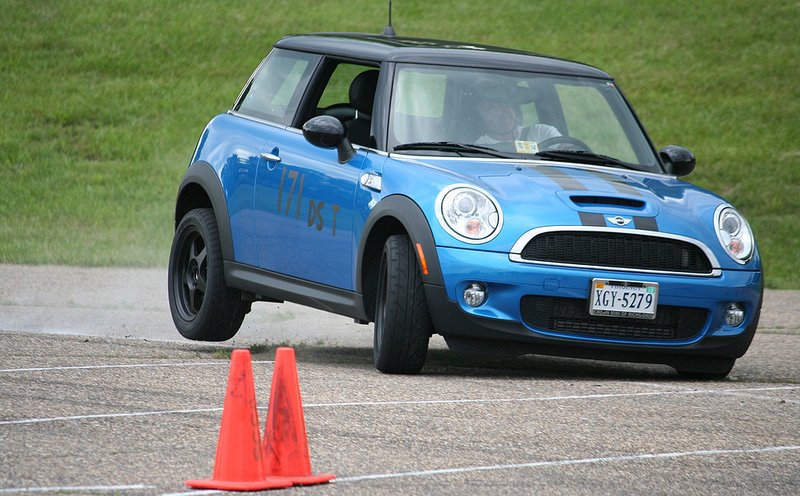 McDaniel Cliff get's on the 3-wheel motion taking the Tire class! For those with eagle eyes you'll notice he has two excellent choices in tires with Dunlop Star Specs up front and Toyo R1R's in the rear.
Tire saw lots of competition with the 2010 Mini Cooper S of McDaniel Cliff took first place with one wheel in the air around every corner thanks to Dunlop Star Specs up front and Toyo R1R's in the rear. Ricardo De Moraes '03 BMW Z4 took second which kind of made it a BMW one-two finish if you think about it. Kevin Chapman took third in his beautiful white 350Z Nismo and fourth went to Eric Stalcup and his '11 STI. Fifth place was taken by the beautiful sound of Tom Inzana's '11 M3 with sixth place going to Aaron Shifflet and his cone killing '86 Corvette.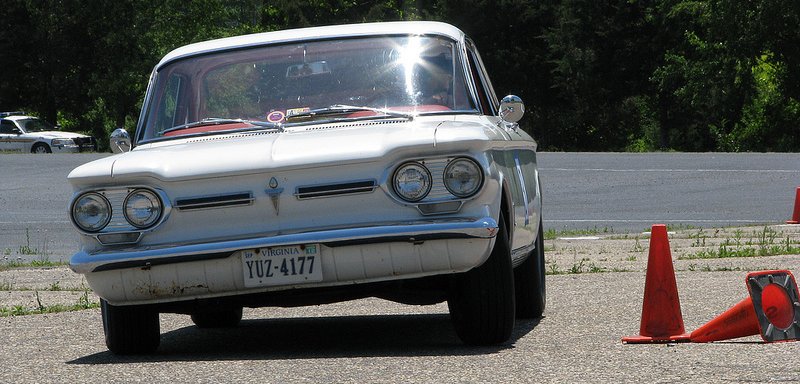 The '62 Monza of Doug MacintoshDavid Clemens '65 Corvair
The day also saw a battle of Corvairs that would have Ralph Nader whizzing his pants with fear. So that they could all be scored solely against each other we decided to group many of them in AM (A Modified) which is a class usually devoted to single seat racecars but basically unoccupied by anyone in the Blue Ridge Region. Steve Hinton took the win in his '66 Yenko Stinger with a 75.874 with Alan White not far behind in his '65 Monza Coupe at 76.831. Third went to Frank Duvall in his '66 Sedan with a 78.469 and fourth was Doug Macintosh in his '62 Monza Coupe with an 81.012. There were however some Corvairs who wanted to get into the fray of other classes and these two drivers had better equipped cars and more experienced drivers (especially David Clemens). David Clemens took CP to make up some points for the year in a nice '65 Corvair on street tires with a 70.215. Mike Stillwell took third in ESP in his '66 Corvair with a 69.289 behind the '01 Mustang GT of Timothy and Heath Maxey who scored 68.420 and 69.040 respectively.
Steffen Clark and Ryan Hansbarger brought their grill setup and operated a quasi-Sonic drive in by giving out hamburgers to drivers in grid. Steffen didn't have any competition in DSP but still fought all the way to a 63.116 putting him 23rd overall in PAX and 17th of 69 by time. Steffen was using some old Kumho V710's and believes theres at least another second left in the Colt with a fresher set of Hankooks in the future. Ryan Hansbarger was also alone in FSP in his S10 but nabbed a 67.180 putting him 42nd in PAX and 45th of 69 by time overall.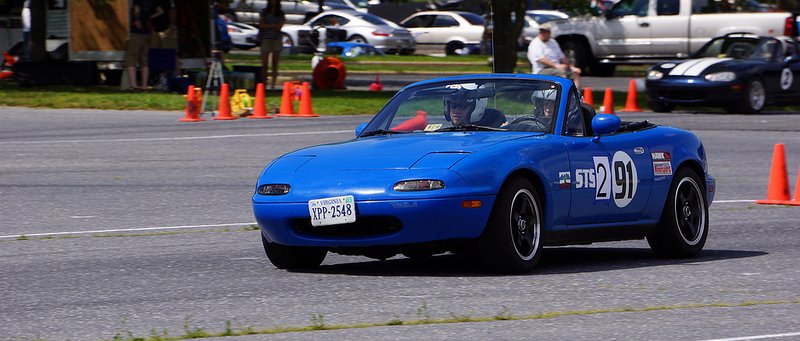 Justin Lingenfelter "The way she was driving I was seriously scared she was going to beat me" Nikki Jameson spun the Miata for the first time but took the ladies class with a 67.124 but came up a little short on beating her boyfriend Justin's 64.053.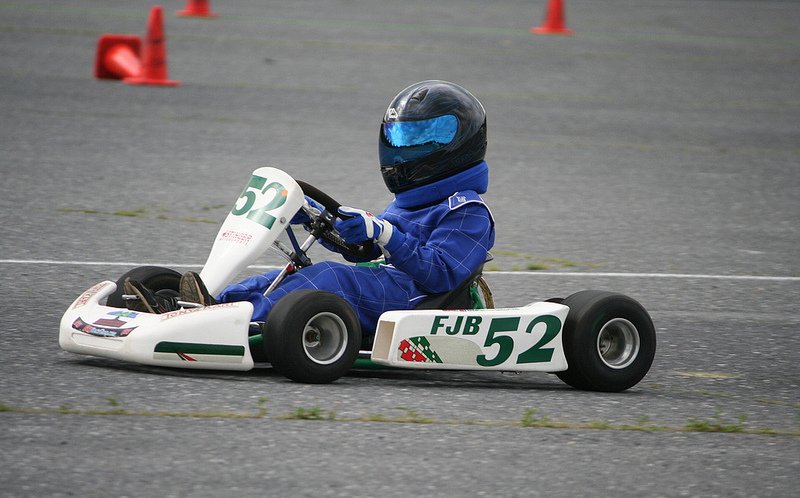 Zachary Clemens returned in his Formula Jr kart in Verona. Feeling much more confident this year Zach waited all day to run and finally ran after the last run group only to have the kart break on him. Racing luck can be cruel like that sometimes but look for him to run some really fast times this year!Lynn and Jason Combs made their return to BRR events after missing Salem back in Lynn's C5 Z06. Lynn taught son Jason how it's done with a 64.265 to Jason's 65.349 but it should be an interesting year as both will only get faster.McDaniel Cliff get's on the 3-wheel motion taking the Tire class! For those with eagle eyes you'll notice he has two excellent choices in tires with Dunlop Star Specs up front and Toyo R1R's in the rear.
While the day did feature some drama, for the most part it was a good event. As usual I had fun catching up with friends and joking around. Even though I got second in my class technically I got first place as team owner/constructor right? I actually did feel that way about it though as a week before I watched Steve McQueen's Le Mans and closely related to the Porsche Crew Chief David Townsend constantly worrying about the car, others I consider in my team (friends in my class and others) and keeping us competitive. When Gary hopped in the car he told me he didn't know if he could catch my time I told him he'd probably have no problem beating me and to just put the car on the podium. To an extent I ate those words but seeing my 189,000 mile daily driver/only car that I've put 100,000 miles on since 2006 taking two spots on the podium and doing so well overall against cars that came off trailers or sleep in garages every night felt great. That old car's got a lot of fight left in it. I'm really looking forward to the next 100k miles.
As usual for more info on each class and each driver take a trip to www.brr-scca.org and as a result of all of my running around the photos were sourced from the photographers of the Blue Ridge Region SCCA.