Yes…this article is extremely after the fact but with another college semester and overtime season at work out of the way I thought I would reminisce on the last autocrosses of the year. Maybe this will get you as well as myself through the cold boring winter and get the gears in our heads turning for next season which is only a few months away!
               By the time the final points autocross of the season came only 5 classes still had championships in the air. My class, STS, had long been decided upon Scott Krzastek's winning streak. Scott was so far ahead that he could afford to miss an event in the STS class and elected to lend his car to one of the CSP title hopefuls, Pete Johnson. The classes of contention were CSP, F125, SMF, ST and STU. Being out of the championship I focused on a different goal.
                To add to the season points championships there was also the College Challenge aspect of the event. Madison Motorsports, Liberty University, George Mason, VCU and the Car Club at Virginia Tech battled it out and the top three pax scores of each school were to be averaged for their scores.  In the spirit of trying to win or improve the College Challenge for JMU (aka Madison Motorsports) I hired as my co-driver former Madison Motorsports President and fellow Miata racer Jake Theiwes.  The idea was for both of us to make back to back runs and heat up the Kumho XS's and we would run fast times.
Mother Nature had other ideas….
David Meyer and his passenger are doing a great job of looking ahead on course. This pic also illustrates the annoying puddle in the sweeper before the finish that plagued cars with understeer and sudden oversteer.
                The morning of the event was cool and the lot at Verona was soaked with rain and drizzle that lasted almost till 9. Unfortunately, Jake had to leave early and was forced to run in the first run group…in the rain…on Kumho XS's which aren't exactly the tire of choice for wet weather autocrosses. Jake drove like a champ though and even held onto FTD for a short time. As a matter of fact before he left during the middle of the first run group he was in first place overall. After he left the sun came up and the rain dried up as the lap times went down. I elected to wait until the second group with the rest of STS to run the car and give the engine a little break.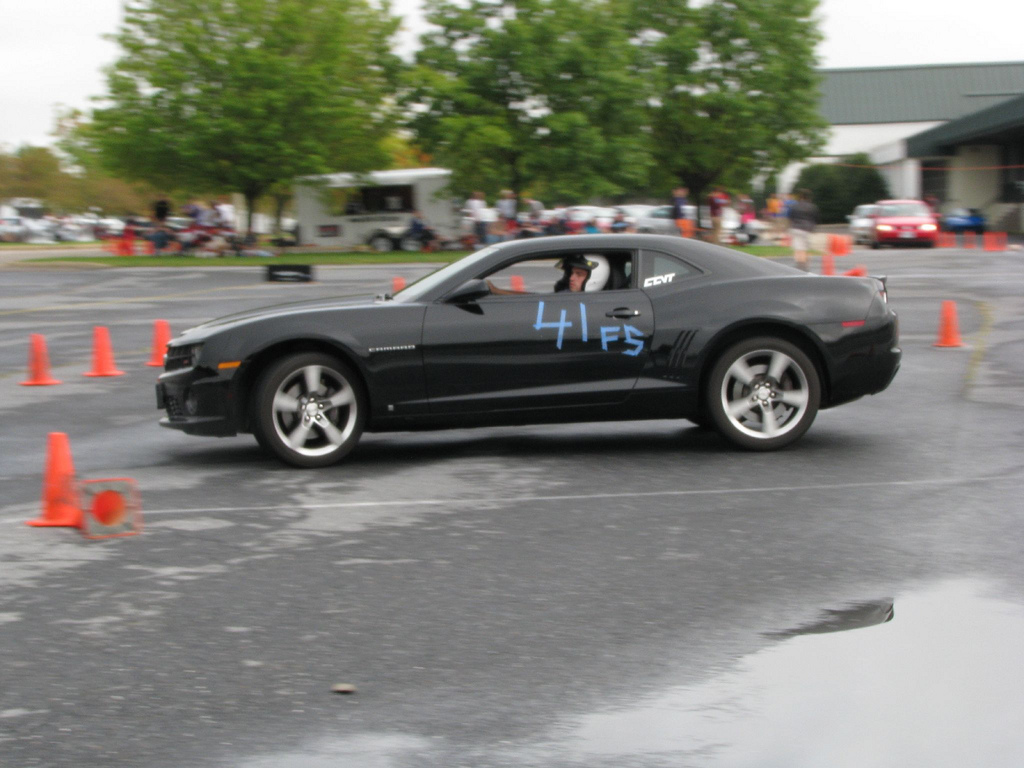 Ian Patrick brought his new Camaro out to play in some puddles.
                Within STS upon Jake leaving Ryan Krzastek, STS Champion Scott Krzastek's brother, took first place with an incredible flying lap before he too had to leave early. Nikki Jamison then upped the pressure by running a lap only a second behind Ryan in her boyfriend Justin Lingenfelter's car. In the second run group it was down to Justin and me in STS to get our laps in. Justin's laps were unbeatable. His margin of victory was 1.9 seconds over second place…which was me. This was Justin's first win in STS and I couldn't have been more proud.
                CSP was a battlefield with there being only six tenths of a second between first and fifth place. With the points championship being between Tim Windle and Pete Johnson with Pete leading Tim was 4 points behind and needed a solid finish for himself and for Pete to have a bad day. While it was close and Tim finished well in third place, Pete was not far enough behind in fifth place and clinched his championship for the year. Scott Krzastek surprised everyone in CSP and showed them exactly what kind of competition we've been facing in STS by winning CSP in his underpowered 1.6 Miata on Pete's 225 Hoosiers. Just a tenth behind Scott was Ray Schumin in second place and five hundredths behind Ray was Tim in third.
                F125, aka the FTD Karts, featured a showdown between Juan Jaramillo and James Newman with Jisu Kim entering the mix. By the time the tire/engine smoke cleared (gas/oil mix) James took the win by only 7 tenths capping off a great season against Juan. At nearly every race the two were less than a second apart . The top 3 kart drivers also took the top 3 overall fastest times with James in first, Juan second and Jisu third. James was even fast enough to take the fastest overall pax time of the day. While many might dismiss their performance and speculate that anyone in an F125 kart could outrun all the cars…well they would just be wrong. The course comes at the driver at eye level almost faster than an F1 race track but without comforting straits and there is no real suspension except the driver's lower spine. These guys are tough.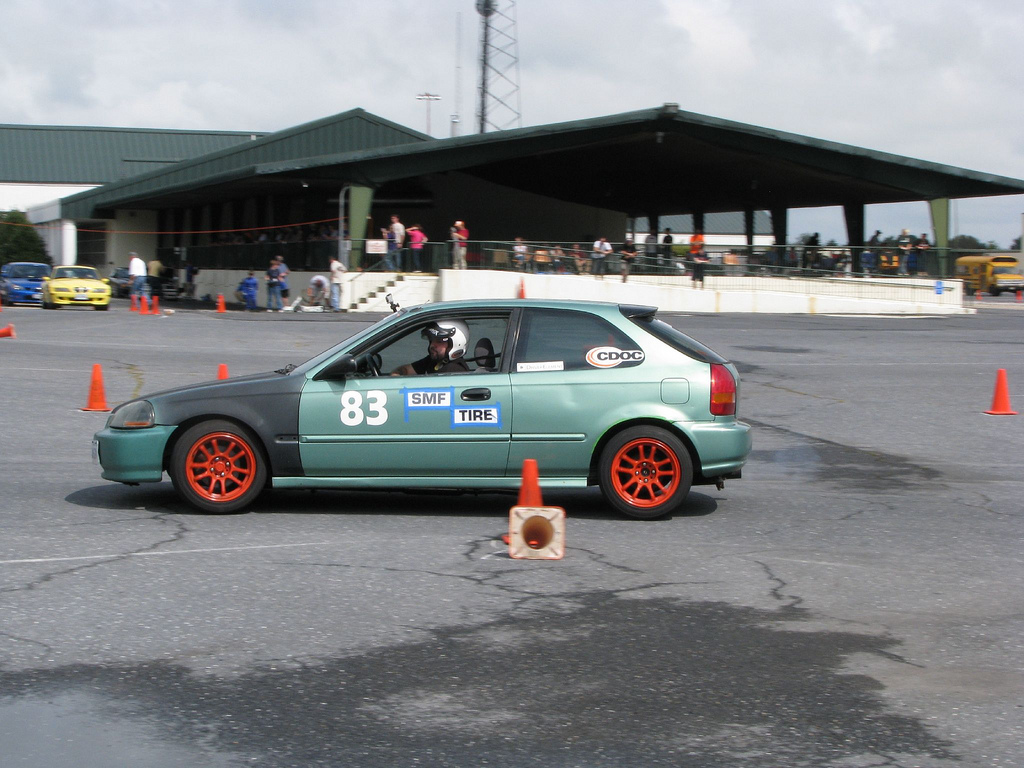 Bruce Crow came away with the class win in SMF in his stripped out Civic hatch. He's looking so far ahead on the course his head is almost out the window.
                SMF saw an absent Jim Rimel clinch the title by 1 point when Michael Hastings finished an impressive second in his 92 Mazda MX6 to Bruce Crow's developing 96 Civic DX. Bruce had endured a lot of teasing by Miata drivers for switching to the Honda camp but finally scored a win against one of his leading tormentors…me. He got me by six tenths although if I wanted to be a whiner about it I could mention that I was in the second run group in cooler wet conditions and he ran later when it was dry and warm but I will not complain…ok so I just did. WHATEVER!! Joking aside the car is coming along well considering Bruce has only had it for a few months and it's still using its original 1.6 single cam engine.
                In ST Chris Perera's 91 Civic Si put in a solid victory but second place Kip McLaughlin's 95 Civic was able to outrun the other two drivers and take the overall points championship.
                For last year's college challenge the results were a bit muddled and hard to tabulate in a fair manner with some schools only being represented by one or two drivers but this year the schools all showed up in force with at least 3 or more and some cases many more drivers. Results were tabulated by average of the top 3 drivers highest pax scores of each school. With a two-second lead and average pax time of 53.27 Madison Motorsports took the win with Liberty in second at 55.97, George Mason in third at 58.96, VCU in fourth with a 59.49 and Virginia Tech in fifth at 62.99. Madison Motorsports top 3 drivers were Kyle Cookmeyer, DJ Fitzpatrick and David Lonnquest. It was an awesome event and will only get better as the years continue.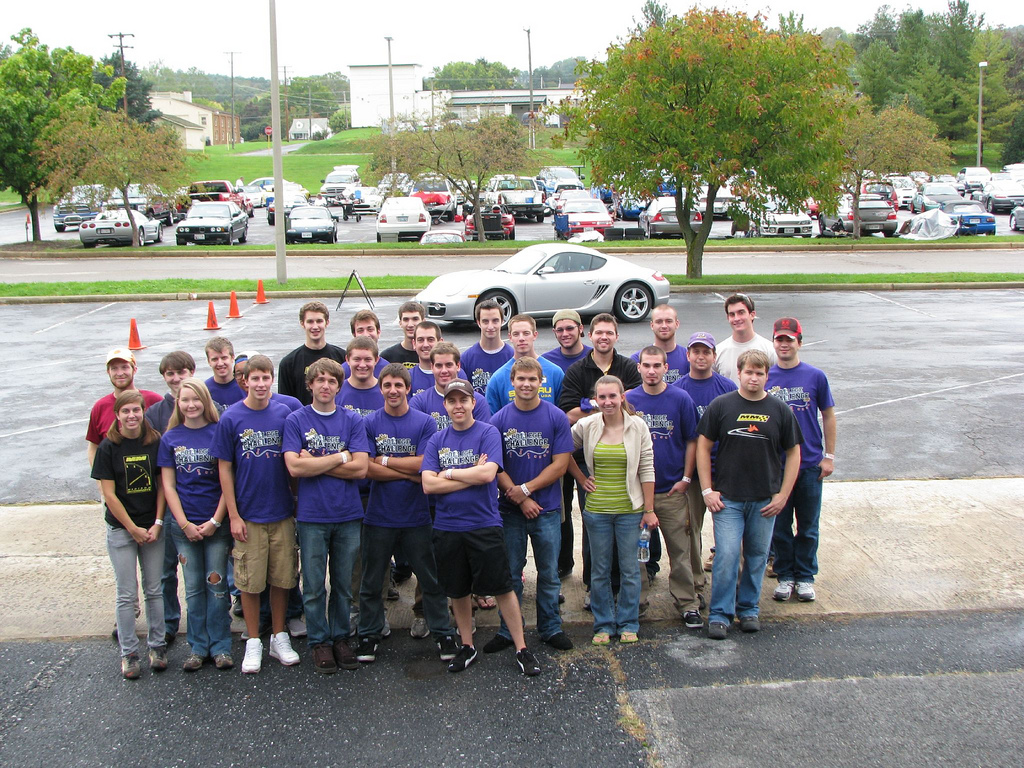 The Madison Motorsports crew! As usual MM participation was amazing with current students and alumni well represented.